This is my monthly newsletter page. Be sure to check back frequently for new information.
What's new for MARCH 2006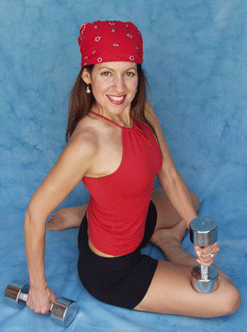 One more chance for Heidi's Intro to Reformer Class -

Weds March 1st and 8th at 7:35pm. Space is limited.

Email Heidi for more info.

Heidi's LMU Session II begins March 8th & 9th and it's open to everyone. Register now.

Pilates on the Reformer. Workout with weights. Mat Pilates. Yoga. Cardio. Gym Training. Post Rehab Training. Sports Specific Training.

Did you know? March is National Nutrition Month!

What 3 steps can you take to improve your diet?

Join Heidi's email list to be updated on new classes, events and more.

Email us

to be added.
Get ready for some new changes at hpfitness.com - coming soon.
Be updated on events and happenings. . .
To join my e-mailing list ~ click here to send us your contact information.
"True silence is the rest of the mind; it is to the spirit what sleep is to the body, nourisment and refreshment."

~ William Penn
Italian Style Alaskan Cod
So Healthy, so Easy, so Yummy!

1 and 1/2 lbs Alaskan Cod
1lb can of Crushed Tomatoes
1 Red Onion, sliced
1 & 1/3 cups White Wine
1/3 cup Feta Cheese
1/3 cup Golden Raisins

3 cloves of garlic, minced
3 tsp Capers

2 Tbsp Fresh Dill
Salt and Pepper to Taste
Put cod in a baking pan and pour 1 cup white wine over it. Sprinkle with Dill, Salt & Pepper. Marinate 30 min in the refrigerator.

Put raisins in a bowl and pour 1/3 cup of wine over them. Let marinate.

Heat 1 tsp of oil or broth in a saute pan. Add onions and cook 5 minutes. Add garlic and cook 1 min. Add tomatoes, raisins (with marinating wine), capers and cook until liquid evaporates.

Pre-heat oven to 350 degrees. Pour marinade off fish. Discard marinade. Pour sauce from saute pan over fish. Sprinkle with feta and bake 20 minutes.
ENJOY!
CHILDS POSE

Benefits:

Relaxes the body and mind

Lengthens the spine

Opens the shoulders and gluteals.
How to do this exercise:
(Always be sure to check with your Dr before performing this or any other new exercise especially if you have heart problems, high or low blood pressure, back or neck problems or are pregnant)
Begin on the floor on your hands and knees. Sit back towards your heels. Knees can be close together or apart, whichever feels best for you.

Let forhead gently lower towards floor. You can place a pillow or towel under your forehead if you'd like. Arms can be forward as in photo above or they can be at your sides with the fingers reaching in the same direction as your toes.

Let every inhale flow through your entire torso and body, let every exhale relax you, especially through the shoulders and spine.
CD

Herbie Hancock

Possibilities

A great CD featuring duets with many fabulous artists such as Sting, Annie Lennox, Christina Aguilera and more.
March is National Nutrition Month

Be a label reader, make sure to get 25-30 Grams of fiber in your diet each day.
Volume 32 Fun Stuff - Click here - Superbowl Pizza, Double Leg Stretch, Love)

Volume 31 Fun Stuff - Click here - Potsticker Soup, Prone Rotation, Little Things)
Volume 30 Fun Stuff - Click here - Carrot Parsnip Soup, Wheel, Tradition)
Volume 29 Fun Stuff - Click here - (Snow Peas, Warrior 3, Gratitude)
Volume 28 Fun Stuff - Click here - (Pumpkin Pancakes, Warrior 1, Happiness)
Volume 27 Fun Stuff - Click here - (Spaghetti Squash, Pilates Roll Down, Weight Loss)
Volume 26 Fun Stuff - Click here - (Crab Stuffed Portobellos, Ball Obliques, Denial)
Volume 25 Fun Stuff - Click here - (Ahi Tuna Burgers, Ball Crunch, Fiber)
Volume 24 Fun Stuff - Click here - (Frozen Cantelope, Plank on the Ball, Well-being)
Volume 23 Fun Stuff - Click here - ( Veggie Fritatta, Breast Stroke, Letting Go)
Volume 22 Fun Stuff - Click here - (Asparagus in Phyllo, Ball Bridge, Growth)
Volume 21 Fun Stuff - Click here - ( Butternut Squash Soup, Side Angle Pose, Nutrition)
Volume 20 Fun Stuff - Click here - (Superbowl fries, 1 leg balance, Splenda)
Volume 19 Fun Stuff Click here - ( Peach Crisp, Ball Glut Stretch, Goals)
Volume 18 Fun Stuff Click here - (Christmas Cookies, 1 Leg Chair, Holiday Cheer)
Volume 17 Fun Stuff Click here - (Rice with Veggies, Spinal Balancing, No More Drama)
Volume 16 Fun Stuff Click here - (Chicken Salad, Grand Plie with Namaste`, Reflection)
Volume 15 Fun Stuff click here - (Wild Rice Salad, Locust Pose, Money)
Volume 14 Fun Stuff click here - (Garlic Spinach, Revolved Bent Knee Side Angle Pose,Talent)
Volume 13 Fun Stuff click here - (Chicken w/eggplant, Prayer Twist, The YOU you want to be)
Volume 12 Fun Stuff click here - ( Pear Leek Bisque, Crescent Pose, Positivity)
Volume 11 Fun Stuff click here - (Spinach Bread, Zipping, Giving)
Volume 10 Fun Stuff click here - (Cinnamon Ginger Tea, 1/2 Lord of the Fishes Pose, Gratitude)
Volume 9 Fun Stuff click here - (Berry Muffins, Bound Angle Pose, Sight)
Volume 8 Fun Stuff click here - (Quinoa Pilaf, Forward Bend, Your character)
Volume 7 Fun Stuff click here - (Summer Salad, Bow Pose, "Food" in your food)
Volume 6 Fun Stuff click here - (Chocolate Chip Cookies, Forward Bend, Clutter)
Volume 5 Fun Stuff click here - (Tofu Lettuce Wraps, Boat Pose, Do what you love)
Volume 4 Fun Stuff click here - (Spinach Ravioli w/ Marinara Sauce, Plank, Goals)
Volume 3 Fun Stuff click here - (Hummus, Downward Dog, Who are you today?)

Volume 2 Fun Stuff click here - (Pumpkin Pudding, Bridge Pose, Gratitude)

Volume 1 Fun Stuff click here - (Banana Fuate`, Triangle Pose)