This is my monthly newsletter page. Be sure to check back frequently for new information.
What's new for APRIL 2006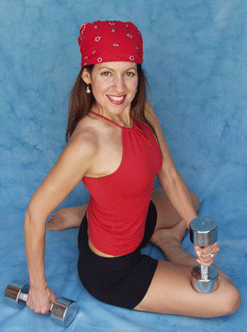 Plan ahead - Heidi's LMU Summer Session I begins May 24th & 25th and it's open to everyone. Summer Session II begins July 19th & 20th. Each session is 5 weeks. Check out the Classes page above for more info. Learn more or Register Now.

Pilates on the Reformer. Workout with weights. Mat Pilates. Yoga. Cardio. Gym Training. Post Rehab Training. Sports Specific Training.

Are you getting the recommended 10,000 steps daily? Count your steps or better yet, buy a pedometer and increase your daily activity.

Join Heidi's email list to be updated on new classes, events and more.

Email us

to be added.
Get ready for some new changes - coming soon.
Be updated on events and happenings. . .
To join my e-mailing list ~ click here to send us your contact information.
"The fragrance always remains in the hand that gives the rose."

~ Heda Bejar
Garlic Balsamic Roasted Chicken

1 Chicken
1/2 cup Balsamic Vinegar
1 TBSP Honey

5 cloves of garlic, minced

2 Tbsp Fresh Rosemary
Salt and Pepper to Taste
Pre-heat oven to 375.

Thoroughly wash the chicken, remove giblets and place chicken in a baking pan.

Mix Balsamic Vinegar, Honey, Rosemary, and garlic. Pour some over chicken, lightly salt and pepper chicken and put chicken in oven. Save the rest of the sauce mixture to pour over chicken after 30 minutes of cooking.

After 30 minutes of cooking pour the rest of balsamic mixture over chicken, continue cooking until a meat thermometer inserted in the thigh reads 160 degrees. Chicken is now done. You can also tell it's done when juices run clear. You may need more or less cooking time depending on the size of your chicken.
ENJOY!
CRISS CROSS

Benefits:

Strengthens the abdominals (transversus abdominus, rectus abdominus and obliques)

Focuses a neutral position for the shoulder stabilizers.
How to do this exercise:
(Always be sure to check with your Dr before performing this or any other new exercise especially if you have heart problems, high or low blood pressure, back or neck problems or are pregnant)
Lie on your back with the hands at your ears and elbows to the side.

Straigthen your right leg, zip your abs, and lift your head, neck and shoulders.

Inhale to prepare. Exhale and rotate your upper body toward the left. Only lift your right shoulder blade a couple of inches off the floor as you rotate. Make sure that the movement is coming from your waist and not your shoulders. Switch legs and rotate your trunk to the right as you inhale. Repeat 10-20 times on each side keeping the trunk rotation small to incorporate the deepest trunk stabilizers, the transversus abs.
CD

Prince

3121

No surprise here. This is such a great CD, you are already hearing most of it in all my classes this month.
Spring is here - What are you doing to step into a better you?

The mininum daily requirement for activity is 10,000 steps or 1 hour of exercise. Are you getting that? Remember, you don't need to get it in all at once. Add up all your activity and make sure it totals at least one hour daily. This is to improve your health. For improved fitness levels - make sure that your activity is rigorous and includes aspects of strength, flexibility and cardiovascular exercise. This is the year to improve your health and your fitness level. What is standing in your way?