This is my monthly newsletter page. Be sure to check back frequently for new information.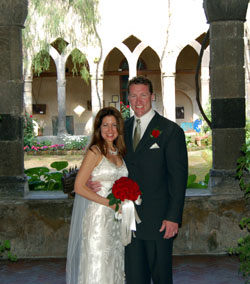 Heidi Pimentel is now Heidi Limerick ~
~ It's Official ~ click here for more wedding photos

Plan ahead - Heidi's LMU Summer Session I begins May 24th & 25th and it's open to everyone. Summer Session II begins July 19th & 20th. Each session is 5 weeks. Learn More or Register now.

Pilates on the Reformer. Workout with weights. Mat Pilates. Yoga. Cardio. Gym Training. Post Rehab Training. Sports Specific Training.

Are you getting the recommended 10,000 steps daily? Count your steps or better yet, buy a pedometer and increase your daily activity.

Join Heidi's email list to be updated on new classes, events and more.

Email us

to be added.
Be updated on events and happenings. . .
To join my e-mailing list ~ click here to send us your contact information.
"For hearing my thoughts, understanding my dreams and being my best friend... For filling my life with joy and loving me without end... I do."


- Anonymous
~Spring Fling ~

Dark Chocolate Covered Strawberries

1/2 Lb bar of Dark Chocolate

1 dozen large Strawberries
Wash and thoroughly dry strawberries.

Fill a double boiler or regular pot 1/2 filled with water. Bring to boil, then reduce heat to a low simmer.

Chop chocolate bar into small pieces in a large heat proof bowl, or top of double boiler. Place Bowl, or double boiler over simmering water pot and stir chocolate until melted. Be careful not to get any water into the chocolate bowl or it will seize and be very difficult to use. This will also happen if the chocolate gets too hot. This is why you use the double boiler.

Dip strawberries into chocolate while you hold onto the stem. Place on wax paper and then into the fridge to cool.

Put the leftover chocolate into a ziploc bag.

Cut a very small piece of the bottom corner of the bag off. Squeezing gently, drizzle chocolate over the strawberries for a pretty presentation.
ENJOY!
IMPRINT TOE TAPS

Benefits:

Strengthens the abdominals (transversus abdominus, rectus abdominus and obliques)

Focuses a neutral position for the shoulder stabilizers, and a relaxed, lengthened position in the neck

Allows focus to be on gluts and re-trains the body to utilize gluts and release hip flexors.
How to do this exercise:
(Always be sure to check with your Dr before performing this or any other new exercise especially if you have heart problems, high or low blood pressure, back or neck problems or are pregnant)
Lie on your back with the head, neck and shoulders relaxed on the floor.

Bring legs into tabletop position. Hips and knees 90 degrees.

Inhale to prepare. Zip your abs. Contract your gluts and use that glut contraction to pull right toes to the floor, keeping that 90 degree angle at your knee. Contract your gluts and feel that the glut contraction pushes your leg back up. Repeat left. Make sure that the leg doesn't move until the glut contracts to move the leg.

For an advanced version see bottom photo with head, neck and shoulders lifted the whole time.
CD

Andrea Bocelli

Amore

Beautiful ~

True Romance.
What do you love most about your loved ones?
Have you shared this with them lately?