This is my monthly newsletter page. Be sure to check back frequently for new information.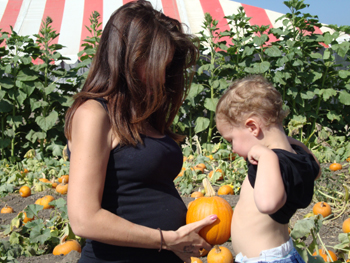 Pumpkins and babies in our tummies at our favorite Pumpkin Festival in LA.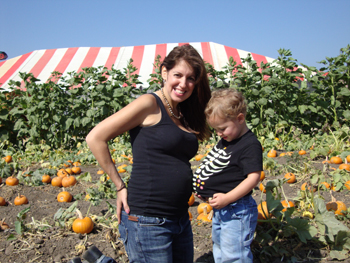 Heidi Pimentel is Heidi Limerick

~ Click here for Italian Wedding Photos

FOR SALE: STOTT Pilates Professional Reformer
Heidi loves Pilates Reformers so much she can't stop buying them. She now finds herself with one too many for her fitness space. She is selling one of her STOTT Pilates Professional Reformers. It's in excellent condition and includes tons of accessories. If you are interested please email us.

Heidi's little Boy! New November Photos. click here

Heidi is now offering budget friendly group training for you and 1-3 friends. Email us for more info and to
book your sessions now.

Pilates on the Reformer. Workout with weights. Mat Pilates. Yoga. Cardio. Gym Training. Post Rehab Training. Sports Specific Training, Pre/Post Natal. Heidi Does it all - at least for the next couple of months when her 2nd baby arrives and she takes a little break..

Join Heidi's email list to be updated on new classes,events and more.

Email us

to be added.
"Once we learn to count our blessings

they increase."


~ Stella Terrill Mann






Pumpkin Muffins

• 1 cup Spelt Flour,

• 3/4 cup All Purpose Flour
• 1/4 cup GroundFflaxseed Meal

• 1 tsp Baking Powder

• Pinch of Ginger

• 1 tsp Baking Soda

• 1 tsp Pumpkin Pie spice

• 1/2 teaspoon Cinnamon

• 1/2 teaspoon Salt

• 1/3 cup Milk

• 1 1/4 cup Turbinado Sugar
• 4 TBSP Smart Balance Buttery Spread

• 1 Egg & 4 Egg Whites

• 1 cup Pumpkin Puree

• 1 tsp Vanilla



1. Mix Smart Balance and sugar until fluffy. Add eggs, pumpkin, milk, and vanilla.
2. In a separate bowl, mix the dry ingredients.
3. Add dry ingredients to wet ones and stir just until combined.
4. Spray muffin pan lightly with cooking spray.
5. Cook in a pre-heated 350 degree oven 8-15 minutes depending on the size of your muffins. When a toothpick comes out clean and muffins spring back when you press gently in the center - they are done. Cool on a rack 5 minutes and then enjoy.
You could also add mini chocolate chips and make it into cake or mini cakes for dessert.
ENJOY!
Side lift on the Ball

Benefits:

Strengthens Abdominals, Back and Outer Thigh Muscles
Improves Balance
Stretches Side
Strengthens Core
How to do this exercise:
(Always be sure to check with your Dr before performing this or any other new exercise especially if you have heart problems, high or low blood pressure, back or neck problems or are pregnant)
Place ball on the floor and lie down as shown above. Make sure you feel balanced with the ball.

Inhale to prepare. Exhale and lift top leg in the air as you reach your fingertips toward your top leg.

Zip your abs. Think of lengthening your body out through the top of your head and out through your toes.

Keep your body long and straight. Inhale and lower. Continue 10-20 times. Repeat other side.

The most important thing is stability.
What's On My Ipod

I Know You Want Me - by Pitbull

My family's favorite song to dance

and workout to - inspired by our

favorite show So You Think You Can

Dance.

What are you most thankful for? Let it be known.
Volume 63 Fun Stuff - Mashed Cauliflower - Ball - Fun

Volume 62 Fun Stuff - Berry Scones - Superman - Routine

Volume 61 Fun Stuff - Garlic Artichokes - Push ups - New Light

Volume 60 Fun Stuff - Pumpkin Scones - Cardio - Goals

Volume 59 Fun Stuff - French Toast - Cardio Self

Volume 58 Fun Stuff - Cider Wild Rice - Side leg series 8 - today

Volume 57 Fun Stuff - Tomato Salad - Side leg series 7 - clutter

Volume 56 Fun Stuff - Watermelon Shrimp Salad - Side leg series 6 - contribute

Volume 55 Fun Stuff - Click here - Zuchinni Boats - Side Leg Series 5 - love

Volume 54 Fun Stuff - Click here - Banana Pancakes - Side Leg Series 4 - Nature

Volume 53 Fun Stuff - Click here - Baked Ziti - Side leg Series 3 - Toxicity

Volume 52 Fun Stuff - Click here - Turkey a la King - Side leg Series 2 - Giving

Volume 51 Fun Stuff - Click here - Pumpkin Gnocchi - Side leg Series 1 -

Volume 50 Fun Stuff - Click here - Banana Bread - Weeble - Toxicity

Volume 49 Fun Stuff - Click here - Artichokes - Rhomboid Pull - Humanity

Volume 48 Fun Stuff - Click here - Twice Baked Potato - Elliptical -

Volume 47 Fun Stuff - Click here - Merengues - Hundred - Postivity

Volume 46 Fun Stuff - Click here - Brownies - Meditation - Successes

Volume 45 Fun Stuff - Click here - Squash Burritos - Pilates Oblique Roll Down - Who are you Part 2?

Volume 44 Fun Stuff - Click here - Chicken Parmesean - Lotus - Who are you?

Volume 43 Fun Stuff - Click here - Chicken fingers - Squat - Goals

Volume 42 Fun Stuff - Click here - Cornish Hens, Cobra, Giving

Volume 41 Fun Stuff - Click here - Turkey Soup with Matzo Balls, Reverse Triangle, Produce.

Volume 40 Fun Stuff - Click here - Garlic Steamed Clams, Side Lift, helping animals.

Volume 39 Fun Stuff - Click here - Beet Carrot Salad, Ball Leg Lift, helping someone.

Volume 38 Fun Stuff - Click here - Parmesean Pepper Spaghetti and Chopped Salad, Leg Lift, Recycle

Volume 37 Fun Stuff - Click here - Lobster & Shrimp Stir Fry, Straight leg stretch, Environment




Volume 36 Fun Stuff - click here - Grilled Salmon, Single leg stretch, Research

Volume 35 Fun Stuff - click here - Chocolate Strawberries, Imprint Toe Taps, Loved ones.

Volume 34 Fun Stuff - Click here - Roasted Chicken, Criss Cross, Activity

Volume 33 Fun Stuff - Click here - Italian Cod, Childs Pose, Fiber

Volume 32 Fun Stuff - Click here - Superbowl Pizza, Double Leg Stretch, Love

Volume 31 Fun Stuff - Click here - Potsticker Soup, Prone Rotation, Little Things


Volume 30 Fun Stuff - Click here - Carrot Parsnip Soup, Wheel, Tradition)


Volume 29 Fun Stuff - Click here - (Snow Peas, Warrior 3, Gratitude)


Volume 28 Fun Stuff - Click here - (Pumpkin Pancakes, Warrior 1, Happiness)


Volume 27 Fun Stuff - Click here - (Spaghetti Squash, Pilates Roll Down, Weight Loss)


Volume 26 Fun Stuff - Click here - (Crab Stuffed Portobellos, Ball Obliques, Denial)


Volume 25 Fun Stuff - Click here - (Ahi Tuna Burgers, Ball Crunch, Fiber)


Volume 24 Fun Stuff - Click here - (Frozen Cantelope, Plank on the Ball, Well-being)


Volume 23 Fun Stuff - Click here - ( Veggie Fritatta, Breast Stroke, Letting Go)


Volume 22 Fun Stuff - Click here - (Asparagus in Phyllo, Ball Bridge, Growth)


Volume 21 Fun Stuff - Click here - ( Butternut Squash Soup, Side Angle Pose, Nutrition)


Volume 20 Fun Stuff - Click here - (Superbowl fries, 1 leg balance, Splenda)


Volume 19 Fun Stuff Click here - ( Peach Crisp, Ball Glut Stretch, Goals)


Volume 18 Fun Stuff Click here - (Christmas Cookies, 1 Leg Chair, Holiday Cheer)


Volume 17 Fun Stuff Click here - (Rice with Veggies, Spinal Balancing, No More Drama)


Volume 16 Fun Stuff Click here - (Chicken Salad, Grand Plie with Namaste`, Reflection)


Volume 15 Fun Stuff click here - (Wild Rice Salad, Locust Pose, Money)


Volume 14 Fun Stuff click here - (Garlic Spinach, Revolved Bent Knee Side Angle Pose,Talent)


Volume 13 Fun Stuff click here - (Chicken w/eggplant, Prayer Twist, The YOU you want to be)


Volume 12 Fun Stuff click here - ( Pear Leek Bisque, Crescent Pose, Positivity)


Volume 11 Fun Stuff click here - (Spinach Bread, Zipping, Giving)


Volume 10 Fun Stuff click here - (Cinnamon Ginger Tea, 1/2 Lord of the Fishes Pose, Gratitude)


Volume 9 Fun Stuff click here - (Berry Muffins, Bound Angle Pose, Sight)


Volume 8 Fun Stuff click here - (Quinoa Pilaf, Forward Bend, Your character)


Volume 7 Fun Stuff click here - (Summer Salad, Bow Pose, "Food" in your food)


Volume 6 Fun Stuff click here - (Chocolate Chip Cookies, Forward Bend, Clutter)


Volume 5 Fun Stuff click here - (Tofu Lettuce Wraps, Boat Pose, Do what you love)


Volume 4 Fun Stuff click here - (Spinach Ravioli w/ Marinara Sauce, Plank, Goals)


Volume 3 Fun Stuff click here - (Hummus, Downward Dog, Who are you today?)

Volume 2 Fun Stuff click here - (Pumpkin Pudding, Bridge Pose, Gratitude)

Volume 1 Fun Stuff click here - (Banana Fuate`, Triangle Pose)